B and M Glass offer a complete range of products to compliment any bathroom, all with stylish and functional appeal. Nothing is more satisfying than having a great looking bathroom that can become a sanctuary of comfort in your home. B and M Glass offer a large range of options available in Framed, Semi-frameless and full frameless designs.

Framed shower screens feature pivot doors with a full length handle and magnetic closure at an affordable price.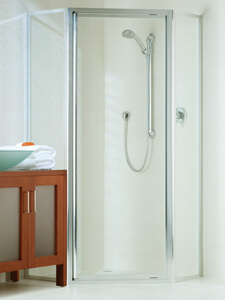 integrated full length handle
---
proven design
---
high-quality, durable construction
---

Semi-framless shower screens feature exposed edges on the door and side panels for a more spacious feel.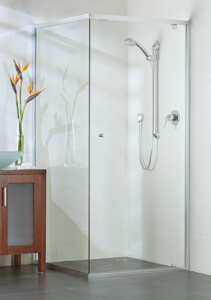 semi-frameless design
---
easy to clean profiles
---
magnetic self-positioning door
---

Fully frameless shower screens feature thicker glass, solid hinges and fixing brackets that reflect elegance and quality.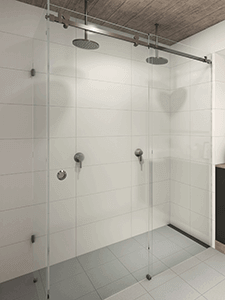 Fully frameless pivot or sliding doors available
---
Adaptable to different bathroom configurations
---
stainless steel components
---
Pivotech Range
For more than 20 years, Pivotech has produced a range of shower enclosures that have set the standard for craftsmanship and value for money. Bathroom design is a fashion business and our design team continue to expand our range of products, meeting the ever-changing needs of our customers and ensuring that Pivotech products are both fashionable and functional. Using the highest quality materials, our systems continue to be an investment in quality and style. Evolution shower enclosures are designed with the versatility to adapt to numerous applications and configurations, combined with the ease of installation and quality of components that our customers rely on. Elegance without compromise – designed simplicity.


Frameless Range
B and M Glass has been installing Frameless cubicles in Adelaide and SA for over 25 years. Our frameless shower screens and cubicles can be designed to suit virtually any configuration. Usually made in 10mm thick toughened safety glass, they are designed to be free standing, only needing bracing support in a small number of situations. There are several glass options available to compliment your bathroom as well as a number of hardware finishes, including chrome, satin chrome and matt black.
Glass Types
With five glass options available, choosing one to compliment your new project will be a breeze.
Clear
Clear glass is colourless and transparent when viewed face on. When viewed from an angle or from the edge it will take on slight green tinge. The thicker the glass the more noticeable the tinge is, this can affect the look of your tiles behind the glass.

Super Clear
Super Clear glass is ultra-clear and provides a higher degree of transparency than clear float glass. It has no green tinge and will not affect the look of your tiles looking through the glass.

Etched
Etched glass is made from clear glass, one side is smooth and the other has a high quality acid etched finish, making this product perfect if a degree of privacy is needed. This product has the same green tinge characteristics as normal clear glass.

Super Etched
Super Etched glass has the same acid etched finish but with a far whiter look than its green cousin. Etched glass is also ideal for internal doors as well as glass toilet cubicles.

Cloud
Cloud, a super clear product which has an acid etched gradient finish of 700mm which can be placed at the desired height i.e. top, middle etc. Same colour characteristics as Super Etched.